Being a reputed postal service company, USPS offers several mail classes including Media Mail, Priority Mail, Retail Ground, and much more. First-Class mail service is also one such mail class that provides both domestic and international service. This mail class is pretty popular as most of the people use this mail class to send their packages across the Nation and globally. This is because the USPS First-Class Mail International is very economical and reliable. People can send their packages to almost 180 countries including Canada.
Here in this article, we will discuss more on the USPS First-Class International shipping.
USPS First-Class International: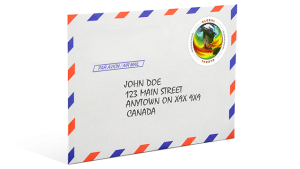 Do you need to send some low-cost items like postcards, beauty products, health gadgets, letters, books, clothes, shoes, etc. then the United States Postal Service's First-Class International is the most affordable and cheapest option to send the packages globally with just one Global Forever stamp. Consider if you need to send a package to other countries like Mexico. If you send a 1 pound package to Mexico through First-Class package international service, then it will cost you around $19.71, whereas if you send the same package through USPS Priority mail service, then it costs around $36.81. These postcards or letters that weigh up to 1 oz, which needs to be shipped globally, will cost you around $1.15. However, sending time-critical mail or packages through this service won't be advisable, as it takes a little more time to reach its destination as compared to other mail classes.
In case if the package is less expensive and is the least time-critical, then this is the best and cheapest option as it is very economical. You will be able to save a lot using this mail class.
Packaging:
If you are opting for First Class mail service, then you don't need to do special packing, envelope, or label to send the package. You will be able to prepare your package as you do it for the domestic mail class. You should remember to write your address on the top left corner of the mailpiece, and the recipient's address will be written at the center.
Packages that weigh more than 1 pound:
To ship packages that weigh more than 1 pound, you need to fill out a customs form that will require details such as the value and contents of the package. If the package is gift packed, then you will be required to reopen it. You can get this form from the local post office.
Though the First-Class International package service is very affordable and economical, there are certain things that you should do before sending your package. Some of the points are as mentioned below:
Make sure the items that you ship are acceptable by the recipient's country
The weight of the mail package should be within the permissible limit, so ensure to weigh your mail package before you send it
Calculate the shipping price
Please Note: If you want to get more insights about the First-Class International mail service, then refer this manual or pay a visit to the nearby post office.
Significant Features:
Very affordable and economical.
Most suitable for sending less expensive things like letters and postcards.
Packages that weigh under 4 lbs and cost up to $400 can be sent via this service.
First-Class International Mail Time:
To know the answer to a common question, "how long does First-Class international mail take?" read through this passage. The average delivery time of the package sent through the First-Class international time service is around 7 to 21 days. In contrast, packages sent through the Priority Mail Class reach its destination in 1 or 2 days. The mail packages sent through this service will reach its destination either by air or ground.
Please note: The delivery time of the package sent through First-Class mail service is not guaranteed by USPS.
USPS First-Class International Rates:
From the above passage, you would have a clear understanding of the USPS First-Class mail service and its delivery time, features, etc. Now, we will discuss more about its cost of shipping.
The package weight and destination are the factors that decide the shipping price for the package sent through First- Class mail service. Any package that is more than permissible length, height, and thickness will cost you more. As mentioned above, the destination country is one factor that decides the shipping price. The countries are split into four categories, and the cost of shipping differs for each group. Below mentioned are the four categories and its cost:
Group 1: It includes Canada and the cost start from $14.73
Group 2: It included Mexico and the cost up to $19.71
Group 3 to 5: Included Australia, Germany, Great Britain, etc. and the cost starts from $21.14
Group 6 to 9: Includes Taiwan, Brazil, Venezuela, etc. and the cost starts from $20.90
Limitations:
The weight of the postcards should be under 1 oz.
The weight of the letter should be under 3.5 oz.
Large envelopes and flats should not weigh more than 64 oz.
The package should not exceed more than 24 inches in length and 36 inches in a combined dimension.
First-Class International Postage Cost:
The cost of the postage for the letters and postcards starts from $1.15 for all countries.
The cost of the postage for large Envelopes (Flats) starts from $2.29 for all the countries.
First-Class Package International Service cost starts from $9.50 at the Post Office.
For Commercial Base and Commercial Plus, the cost starts from $9.03.
Postages for standard-sized letters and standard-sized postcards that are up to 1 oz starts from $1.15 for all countries.
Please Note:
The new cost for the First-Class Mail International service may vary because USPS has increased the price of its mail services.
Postage for packages more than 1 oz, oversized, or unshaped depends on the destination country's price group.
Conclusion:
The conclusion is that the First-Class Mail International service is the most affordable service to send your letters and packages to other countries, but it takes between 7-21 days for the delivery. If time is not the factor in your case, then you should definitely go with this service as it is the cheapest among its competitors like UPS, FedEx, DHL, etc.