FedEx Corporation is one of the renowned logistics services in the United States, headquartered in Memphis, Tennessee. When the company was first launched, it was known as Federal Express, and after few years, the corporation renamed as FedEx Express. Being one of the popular shipping companies, they ship millions of packages every day to almost every address in the United States. They also own the pride of being the first company to launch the tracking facility. Through this facility, a customer can track the package and receive updates for the same. People prefer FedEx for shipping their critical packages due to the overnight shipping service offered by the company.
Due to heavy competition, many logistics company launch new services and facilities every day. You can find some companies which offer "shipping on Sunday" service. So, at this point, the question is "Does Federal Express deliver on Sundays?" because so many business owners and people depend upon the Sunday delivery. So, let's find about the FedEx Sunday delivery:
Does FedEx Deliver on Sunday?
If you want to know does FedEx ship or deliver on Sundays, then the answer is No! FedEx doesn't deliver or ship on Sundays, but there is an exception for the Same-Day Delivery service which you can read in the next passage. You cannot expect deliveries on Sunday for the residence and commercial deliveries. You may expect the delivery only on the weekdays that is from Monday to Friday. However, they offer Saturday delivery options to some metropolitan postal codes. If you want to opt for the Saturday delivery option, then you need to select the Saturday Delivery special handling option while you do the shipping.
FedEx Sunday Delivery:
FedEx doesn't deliver packages on Sundays because there is not enough mail volume. It's not that the company doesn't want to deliver packages on Sunday, they once offered this Sunday delivery service. After a few days, they realized that they are not making any profit out of it, rather it costs them more than the regular one. The main focus of FedEx is Business-to-Business delivery and Business-to-Residential delivery. Out of this two, the company makes a huge profit with the first delivery service. Majority of the packages that FedEx handle is for commercial purpose, as you know Sunday is a holiday and there won't be a huge amount of packages to deliver. If they want to ship fewer packages, then a lot of workforces will be required. Ultimately, they need to incur more charges. This additional charge will be reflected in the postage charge. They increased the charge for shipping, due to which people stopped sending packages for Sunday Deliveries. FedEx is not the only company that stopped the Sunday delivery service; UPS also stopped the Sunday delivery service for the same reason.
Note: There is an exception to this service, FedEx delivers on last Sunday before every Christmas due to heavy mail volume.
FedEx Same-Day Delivery: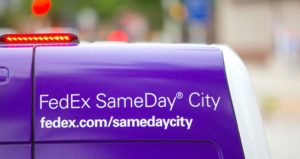 As we mentioned above, there is an exception for Sunday delivery which is called as FedEx Same-Day Delivery. Only Same-Day Delivery packages are the packages that FedEx deliver on Sunday. This service is a premium and the fastest service dedicated to the customers who need to send some packages with an extreme emergency. When compared with other standard delivery of the FedEx, this service is the fastest service. Likewise, the charges for sending packages through this service are also more than the other standard delivery. However, this service is not available in all the areas in the country; you will be able to send only to certain locations.
All the packages that are time sensitive are sent through this service. If you use this service, you may expect the delivery in a few hours. The service has been extended across the metro locations. Currently, FedEx is serving throughout all 50 states. If you need any further clarifications regarding this service or if you want to schedule a pickup or drop off, then call 1.800.399.5999, or you may visit this page.
Salient Features of FedEx Same-Day Delivery:
You can send your package to cross-country through the Same-Day Delivery service.
Packages are delivered 7 days a week, 365 days a year.
Packages less than 150 lbs. can be sent through this service. More than 150 lbs. packages can be sent via FedEx Same-Day Freight.
This service is offered in all the states of the United States.
Is FedEx Open On Sunday?
If you want to know whether FedEx remains open on Sunday or not, then the answer is, Yes! FedEx Opens on Sunday though it doesn't deliver any package on this day. You will be able to see several FedEx Kinkos which remain open on Sunday. They offer their valuable services to their customers for 24 X 7 on all 365 days of a year. You need to remember that there are certain limitations on it. Certain tasks will not be done on Sundays. But, you first need to make sure that your nearby FedEx location remains open on Sundays. To find out the location and working hour information, you may see the below information.
FedEx Sunday Hours:
If you want to send any package on Sunday, then you need to find out the working hours of your nearby FedEx location. Below mentioned are the delivery days and time for each service and mail class (Sunday Excluded):
FedEx Express

: Monday – Friday: From 8 a.m. to 6 p.m.

FedEx Ground

: Monday – Friday: From 8 a.m. to 7 p.m.

FedEx Home Delivery

: Tuesday – Friday: From 9 a.m. to 8 p.m. and on Saturday from 9 a.m. to 3 p.m.
The above mentioned are the standard working hours of FedEx, if you want to know about the Sunday working hours, then refer to the below details.
105 Duane St, New York, NY 10007 (212) 406-1220

: 10:00 AM – 8:00 PM

1465 Shaw Ave, Clovis, CA 93611

: 10:00 AM – 6:00 PM

2491 Alluvial Ave, Clovis, CA 93611(559) 324-9675

: 9:00 AM – 3:00 PM

2201 Shattuck Ave, Berkeley, CA 94704 (510) 204-0775

: 10:00 AM – 8:00 PM
These are a few FedEx offices which work on Sunday. You will be able to find the location and working hours of the FedEx by following the given steps:
Find FedEx Locations and Hours:
Visit the official site of FedEx and navigate to FedEx Locator Page.
Next, you need to provide the location details either by entering the details in the blank field or by choosing the location from the drop-down suggestions.
Choose any one box from the right.
Click the Enter button.
Finally, you will be able to see a list of complete FedEx Offices & Ship Centers.
So now, you will be able to find out the FedEx Hours i.e. opening & closing times.
Most of the customers want to know that what time does FedEx close on Sunday, so we want to say that the closing time may vary by locations. Most of the FedEx offices close at 8:00 pm and some at 9:00.
Does FedEx Pickup On Sunday?
FedEx Pickups are not done on Sundays, but if you choose the FedEx Same-Day Delivery service, then FedEx will pick up your shipment on the same day.